Rectangular bags
Download the PDF with the types of bags
Who said that packaging doesn't make the difference?
Every packaging is different: each one has a peculiar use. We shape bags in polythene and polyethylene that can be smooth, micro or macro pierced, in any dimension. In the rectangular bag section, we sell bags to wrap food (i.e. bread, sweets, dairy, vegetables), houseware and textile products.
Rectangular bags can be custom-made of either transparent or colored material, along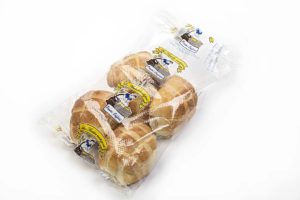 with flexography print.
The bi-oriented polypropylene can be used when a special stiffness is required. On the other hand, the use of polypropylene cast is suggested when the product requires a good resistance to laceration and strong welding properties. White polyethylene is the optimum choice to wrap photo sensible food.
Rectangular bags: they are bags with a rectangular form for food use. We sell them printed, smooth, micro or macro pierced according to customer and transpiration needs. They can be made of either polythene or polypropylene.
Bags with folded ends: rectangular bags in polythene and polypropylene that can be printed, smooth, micro or macro pierced depending on its use. They are generally used in the food industry , the end is folded for resistance and display need, especially if the bag is printed.
Preformed bags with handles: bags typically used in the fruit and vegetable field particularly for grapes. They are sold printed, smooth and macro pierced.
Rectangular bags in polythene HD/LD bottom folded: low and high-density rectangular bags that can be smooth and macro pierced for the food and vegetable industry. Thanks to the bottom folding procedure this bag is resistant and can contain liquids.
Rectangular bag of polypropylene: when welded on all sides and micro-pierced it is used as a tool in the car industry.