Polyethylene covers for wooden and plastic cases
Download PDF with Polyethylene covers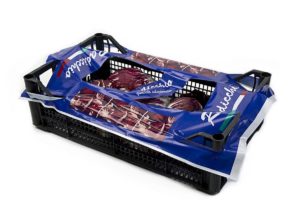 We sell polyethylene covers that protect  vegetables before being sold and/or during transportation in boxes.
These covers are used mostly in the fruit and vegetable sector: they are cut to be fastened on a case and are pierced to make the product transpire during transportation.
The covers are specifically used for very fresh vegetables just like radicchio, fennel, salad, carrots, peppers and so on.
Since the covers are made of polyethylene, they are really adaptable to wood, plastic and cardboard boxes.
Another important feature to be added is that a logo of the company can be printed on it, which is very useful in terms of marketing.